EVENTS - I will be signing books at the following events


Sunday 5th June - Ilminster Literary Festival

Thursday 9th June - Craft Market, Croyde

Friday 10th June - The Landmark, Ilfracombe

Saturday 11th June - Tiverton Literary Festival

Saturday 25th June - Book Launch and Presentation on The Power of Three at The Plough, Great Torrington 3pm. FREE EVENT, all welcome

Friday 1st July - The Landmark, Ilfracombe

Saturday 2nd July - The Artisan Market, Fore Street, Ilfracombe

Saturday 9th July - Ruby Country Market, Hatherleigh

Saturday 16th July - Atlantic Village, Bideford

Wednesday 27th July - Country Living Fair, Dunster

Wednesday 3rd August - North Devon Show

Saturday 6th August - Atlantic Village, Bideford

Sunday 7th August - Porlock Country Fair

Saturday 20th August - Atlantic Village, Bideford

Saturday 27th & Sunday 28th August- Atlantic Village, Bideford

Thursday 27th October - Bampton Fair

Saturday 29th & Sunday 30th October - Candle Fair, Taunton

Saturday 19th & Sunday 20th November - Christmas Fair, Knightshayes, Tiverton

Saturday 3rd, 10th, 17th & Wednesday 21st December - Big Sheep, Abbotsham, Bideford


Recent Events

SHADOW CHILD Book Launch

A massive thank you to all those who came to the book launch of Shadow Child. What an amazing night! Sixty-five guests enjoyed a combination of readings, video and music, including anecdotes from my time as a social worker with Barnardos where I met the children who provided the inspiration for the central characters in the novel.


---
Bideford GRAFTAS Awards Night
---
Devon Book Group Gathering
Book signings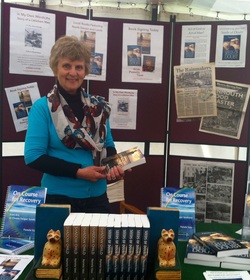 It's always great to meet up with old and new friends at one of events I attend. Thank you to everyone who comes by for a chat or to pick up one of my books.

---
From The Archives
Fire in the Belly
I am currently researching the activities of militant suffragettes in Devon and nationally for my next novel, Fire in the Belly. Call back for more archive news.


Whitsun 1909 - First militant Suffragette activity in North Devon.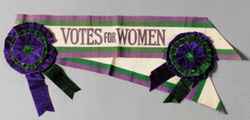 'For the first time at Whitsuntide, (1909) Bideford was visited by a bank of militant Suffragettes whose object was to seek an interview with Mr Asquith who was then staying at Clovelly Court.
Vera Wentworth, Elsie Howey and Jessie Kenney accosted Herbert Asquith after church at Clovelly. One dressed in purple, one in white, one in green, the WSPU colours. They were 'escorted' back to Bideford but returned to Clovellly overnight and covered the gardens with Suffragette banners and rosettes.

---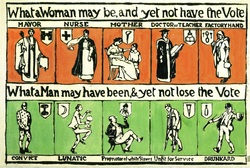 The ladies were widely criticised for their scandalous behaviour - interrupting the hard working Prime Minister on his holiday in Devon. The reason for the increasing frustration that precipitated their direct action is best summed up by a popular Suffragette poster. (Click to enlarge)

---
Interesting Snippet on Olive Wharry - accused of setting fire to Kew tea-rooms
James Rowland

'My father Stanley J Rowland, (born 1894) a solicitor's clerk aged 19, was sent in 1913 with a fellow junior clerk named Cowling to serve the writ on Olive Wharry at her home at Whitstone Head, Whitstone, in North Cornwall, near Bude. They cycled out to Whitstone from their employer's office in Holsworthy, about 8 miles, and were admitted by her father Dr Wharry. When they explained their business he refused to let them see his daughter and locked them in his study. After a long while they were released and told to leave, taking the writ with them. As they left one of them flung the writ on the doorstep. This was held to be effective service. Dr Wharry flew into a rage and, calling his servants, chased them off the premises. Dr Wharry was subsequently prosecuted for assaulting a process server acting in the course of his duties and stood trial at the Old Bailey in London, initially pleading Not Guilty. My father and his colleague were ordered to attend as prosecution witnesses. Neither had been east of Exeter before and it was a great adventure. When they arrived in London they were told that the case would start a day late. The only place in London they had heard of was Madam Tussaud's waxworks and so they spent the day there. In the event Dr Wharry changed his plea to Guilty and their evidence was not required. My father had never before then slept a night away from home. The writ to be served on Miss Wharry related to the arson at Kew but I do not know if it was a civil claim for damages or a criminal summons.'