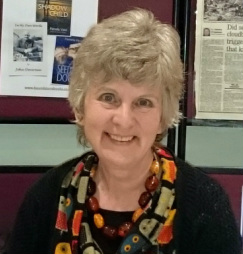 I was born and brought up close to London but when I left University there was only one place I wanted to be - Devon. I was soon feeling very much at home living and working in Exeter.

A few years on I became curious about my family tree - and discovered that all my ancestors before the late 1800's came from Devon. I still find it amazing that such a strong sense of belonging can span the centuries. I had come home.

I enjoy sharing the stories - both fact and fiction - behind my books and how they are inspired by the Devon landscape and its people. My current talks and presentations include:
---
Seeds of Doubt
Many remember the summer of 1952 when flash-floods destroyed the small fishing village of Lynmouth on the North Devon coast. I was intrigued by rumours of government interference with the weather and spent many months accessing previously secret documents at the National Archive in Kew. This talk covers the incredible true story that emerged and which created the backdrop for my novel Seeds of Doubt. I include readings from the book and anecdotes about the research and writing process.

Inside Care - The Story Behind 'Shadow Child'
Shadow Child tells the story of a nine year old boy whose mother disappears. He fights against the care system, certain of only one thing - his mother's love. But why did she leave? Where did she go? There are anecdotes from my time as a social worker when I worked with many children who struggled for what so many of us take for granted - a childhood. This is a multi-media presentation including footage from a BBC Inside Story documentary following my work with Barnardos. Surprisingly there is humour as well as a poignancy in these stories.

The Power of 3: The Story of Thomas Fowler.
'Local Man invents Computer.' A startling headline for a North Devon paper, and one that launched me on a search for that local man, Thomas Fowler from Great Torrington. The agonising story that emerged was of a remarkable, self-taught mathematician and inventor whose work had the potential to change the course of history. But bad fortune and prejudice dogged his footsteps and he died a bitterly disappointed man.This talk includes video, illustrations and the voices of actors reading actual transcripts.

On Course for Recovery
Some years ago I experienced a prolonged illness; a frustrating time. It was only later that I came to see illness as an opportunity not a curse. Combining this personal experience, extensive research and my professional expertise as a tutor on a self-management course for those with a chronic illness, I devised 'On Course for Recovery'. My personal story and this handbook form the basis for this talk describing how it is possible to find a way back to health.

Behind the Books

My career as a social worker, with Exeter social services and Barnardos, left me with vivid memories of the children in care who struggle to carve out a future for themselves. Shadow Child is fictional but inspired by, and dedicated to, those amazing young people. It was also inspired by the amazing Devon landscape.
Shadow Child has the classic twist in the tale, a legacy of my move from social work into the world of murder and mystery as Founder and Director of The Whodunnit Company. This amazingly talented company of actors intrigued, entertained and desperately fought to stay one step ahead of our increasingly adept sleuths on themed events both in this country and abroad.

One of our venues was in the coastal village of Lynmouth in North Devon. While working there, I became aware of rumours that government interference with the weather may have contributed to the devastating floods in 1952. Very little was known locally so I embarked on some intensive research at the National Archives at Kew. The story that emerged from the documents I discovered there provides the factual background for Seeds of Doubt.

A passion for dusty archives and real life mysteries launched me on another quest to piece together the intriguing story of Thomas Fowler, an unknown Devon mathematician and inventor. His claim to fame - the invention of a unique calculating machine.
..Fowler's calculator was in certain respects vastly more promising than Babbage's."
Doron Swade MBE, previously Assistant Director and Head of Collections at the Science Museum, London

"...Computers might have changed history and our world almost a century sooner had the ideas of Fowler been understood and adopted by Babbage."
Ralph Merkle, Senior Research Fellow at the Institute for Molecular Manufacturing, California and co-inventor of public key cryptography.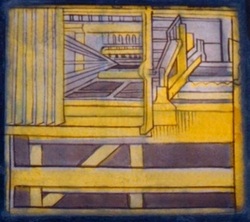 This image, from a stained glass panel in Great Torrington church, is the only known representation of the machine that Thomas Fowler took to London in 1843 to demonstrate to the foremost scientists of the day, including Charles Babbage. His machine was widely praised but Fowler was dogged by misfortune and his work slipped into obscurity. A project team are now working to reinstate Fowler as a significant figure in the history of computing. We have given a presentation on Fowler at the Science Museum in London and one of Fowler's concept machines is now in their collection. See http://mortati.com/glusker/fowler/fowlerbio.htm for more.


---